The following items are made out of props used in the film 'Holding This For You'.  I've included an asking price, but if you like something-make an offer!  These are all handmade by me and proceeds will go directly towards the post-production costs of my current film project, 'Tracings'.
These are limited run (of 10), signed dvds of the film.  Materials used in the one of a kind packaging include medical gauze used in the costuming and keys and single-edged blades (filed down and safe to touch) used as props that littered the dance floor in the thousands.  
Only 4 dvds left! 
close up to show detail
These are wristcuffs (gender-free jewelry!).  Each is made of re-purposed materials in addition to featuring a prop from the movie.  Or.... feel free to email me your wrist size and design preferences and I will custom make you one.
A single-edged blade sandwiched under shimmery translucent ribbon. (xxsmall)
 asking price $20
Ok, this one isn't made out of anything from the film, but it does have a piece of film prominently featured on it. (medium)
 asking price $10
These both feature keys that my bare little feet danced upon in the movie. (medium-large. pink or green stitching.)
 asking price $15
The following are originally intended as chokers, but others have used them as hair accessories, wrist bands, bookmarks, and wall hangings.


 Three single-edged blades used as props and re-purposed pointe shoe ribbons (from my ballerina past) in pink and blue.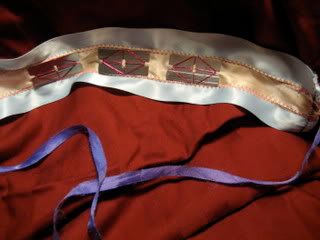 asking price $35
Single-edged blade, decorative metallic stitching (hot pink) and recycled pointe shoe ribbon     (peach).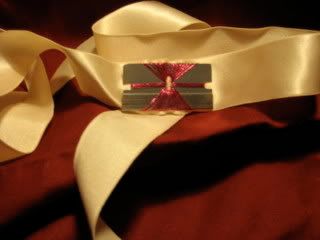 asking price $20
Blade, pointe shoe ribbon, accent ribbon.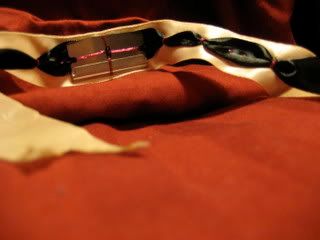 asking price $25
Blade, pink pointe shoe ribbon, light blue accent ribbon. (note: this ribbon does show the wear of being stitched to a shoe.)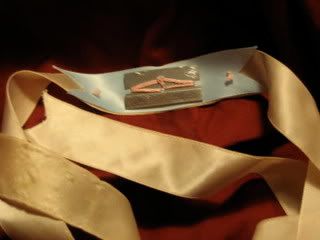 asking price $8
Payments can be arranged through paypal, if outside of Seattle.   Shipping costs as needed will be in addition to agreed upon price.  Thanks for taking a look.